A friendly gardener and mall Santa, McArthur may also have been the worst ever serial killer of gay men. As Toronto police reopen 25 cold cases dating back to 1975, they are facing tough questions about decades of hostility to the gay community.
When the biggest forensic investigation in Toronto history began, it was still possible to be blind to the full extent of the horror.
On 18 January 2018, in the mid-morning, Bruce McArthur, a 66-year-old freelance landscaper, entered his Thorncliffe Park apartment building in Toronto, accompanied by a young man.
McArthur had been placed under 24-hour police watch the previous day. The surveillance officers had instructions to arrest him if they saw him alone with someone else.
They ascended to McArthur's 19th-floor apartment and broke down the door. Inside, they found his companion already tied to the bed.
McArthur was charged with the murder of Andrew Kinsman, 49, who had gone missing shortly after Pride Day on 26 June 2017, and Selim Esen, 44, who was reported missing about two months earlier.
As a particularly cold winter dragged on into February, the city was horrified as police began to unearth the remains of corpses buried inside more than a dozen decorative planters. The planters were located outside a modest home, on Mallory Crescent in the Leaside area of the city, where McArthur had been employed as a gardener.
Police issued a plea to anyone who might have used McArthur's services, and deployed cadaver dogs to multiple locations across Toronto. They erected tents and used heaters to thaw the frozen ground. Forensic investigators combed over McArthur's two-bedroom apartment for months, removing 1,800 pieces of evidence and photographing every square inch.
The number of murder charges grew to five (Majeed Kayhan, 58; Dean Lisowick, 47; and Soroush Mahmudi, 50), then eight (Skandaraj Navaratnam, 40; Abdulbasir Faizi, 44; and Kirushna Kumar Kanagaratnam, 37).
Six of the men were south Asian or Middle Eastern. All of them were gay.
The LGBT community in Toronto was shocked, bereaved – and furious. From 2010 to 2017, gay men had been disappearing in alarming numbers from Toronto's lively gay village. Many locals had long suspected a serial killer.
Long-simmering tensions with the Toronto police boiled over. Organisers demanded to know why the force hadn't taken their fears more seriously. Some argued that police were too slow to warn the community of a possible serial killer, saying lives could have been saved.
To make matters worse, Toronto police appeared to put some blame on the gay community for the killings when chief Mark Saunders told reporters that they might have caught McArthur sooner had residents of the gay village been more forthcoming. "We knew that people were missing and we knew we didn't have the right answers," Saunders said. "But nobody was coming to us with anything."
Toronto police had already been banned in 2017 from the Gay Pride parade, following lobbying from Toronto's chapter of Black Lives Matter. Their request to participate in 2018 was refused.
Then, in April, in a move that some have interpreted as an acknowledgment of their neglect of the gay community, police announced that they were reopening 25 cold cases – all murders associated with Toronto's gay village.
They date from 1997 all the way back to 1975.
And no one is suggesting it is over.
From Santa to serial killer
While investigators are still developing a profile of the alleged serial killer, they are certain of one thing. The jolly-looking McArthur, who is divorced and has two grown children, did not have the menacing countenance of a serial murderer.
In fact, he was so convincingly harmless looking that he was able to play Santa in at least one suburban shopping mall. His age, as well as his unthreatening appearance – round features and a broad, cheery smile – made him seem approachable to children shopping with their parents, as well as to gay men seeking a dark sexual encounter with someone they could trust.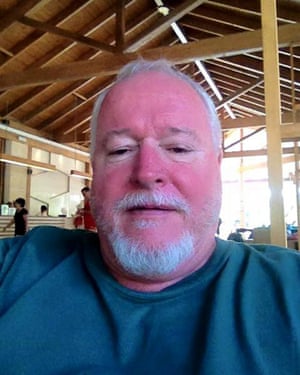 After divorcing his wife, McArthur, who had been active on his church board in Oshawa, east of Toronto, became a regular in the city's gay village. He trolled hook-up sites like Manjam and Recon, where the "silver fox" made his taste for submissive men clear – especially those who wanted to test the limits of their curiosity for dangerous sex.
McArthur had been brought to the attention of local police in 2002, when he was arrested for attacking a gay prostitute with a metal bar. He was sentenced in 2003 to two years probation and told to stay away from the gay village.
In 2010, reports started to come through of men going missing from the village. The first, Skandaraj Navaratnam, rests particularly heavily on the mind of Haran Vijayanathan, executive director of the Alliance for South Asian Aids Prevention (ASAAP).
Both men are Sri Lankan, Tamil and gay. "I saw myself in Skanda," says Vijayanathan. "He represents my greatest fear."
That fear – one faced by immigrant and refugee men in an unfamiliar gay community – is nothing new. Just as gay men from North Bay and Moose Jaw flocked to Toronto in the 1970s to live free and open lives, a new generation of gay men from south Asia and the Middle East have been drawn to Canada in the last 20 years for the same reasons. The new arrivals may revel in Canada's acceptance, but they are still vulnerable – still suspicious of authority, reluctant to attract attention, perhaps too eager to fit in. And perhaps too trusting of a gentle-looking older man who appears harmless.
Predators thrive on marginalized groups, says University of Toronto associate professor of sociology Jooyoung Lee, an expert in violent crime and serial homicide. Gay men – particularly gay refugees or other relatively new Canadians – fit into a population that includes prostitutes, aboriginal women and immigrants.
And then there is what Lee refers to as "missing white woman syndrome": the idea that police, media and the public are less inclined to pay attention to crimes that are perpetrated on marginalized communities.
Vijayanathan, who is one of the most outspoken critics of how Toronto let its gay community down, insists that police only took the investigations seriously when Dean Lisowick, one of two white victims, was reported missing.
But he also points to racism within the gay community – comparing the massive local search mounted after the reported disappearance of the other white victim, Andrew Kinsman, with the slower and less cohesive response to the disappearances of the brown-skinned victims.
Vijayanathan also believes the families of some of the missing immigrant men failed to report their disappearance.
Isolation, combined with a fear of police, has marginalized members of our community and made them more vulnerable